Call (336) 337-1043
Find Out Why You Need Warning Tags
Read below about ASME B30.2-1.1.5 and B30.16-1.1.4
Durability of Warning Tags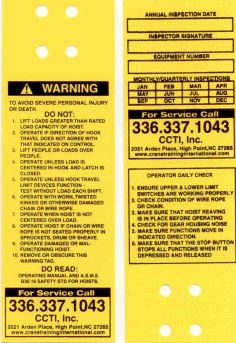 ASME B30.2-1.1.5 Warnings – SECTION 2-1.1: Markings
(a) Floor-operated and remote-operated cranes shall have a safety label or labels to the pendant station, portable operating station, or load block. The label or labels shall be in compliance with ANSI Z535.4 and shall include, but not be limited to, cautionary language against
lifting more than rated load
operating hoist when load is not centered under hoist
operating hoist with twisted, kinked, or damaged chain or rope
operating damaged or malfunctioning crane
lifting people
lifting loads over people
operating a rope hoist with a rope that is not properly seated in its groove
operating manual motions with other than manual power
removing or obscuring safety label
(b) Cab-operated and pulpit-operated cranes shall have a safety label or labels affixed in the cab or pulpit. The label or labels shall be in compliance with ANSI Z535.4, and shall include, but not be limited to , cautionary language against
lifting more than rated load
operating hoist when load is not centered under hoist
operating hoist with twisted, kinked, or damaged chain or rope
operating damaged or malfunctioning crane
lifting people
lifting loads over people
operating a rope hoist with a rope that is not properly seated in its groove
removing or obscuring safety label
(c) A safety label shall be affixed on all electrical control enclosures. The label shall be in compliance with ANSI Z535.4, and shall include, but not be limited to, information such as the following:
Disconnect power and lockout disconnecting means before removing cover or servicing this equipment.
Do not operate without cover in place.
ASME B30.16-1.1.4 Warnings – SECTION 16-1.1: Markings
(a) All hand chain-operated hoists shall have affixed to the hoist or load block, a label or labels displaying information concerning operating procedures, The label or labels shall be in compliance with ANSI Z535.4, and shall include the cautionary language against
lifting more than rated load
operating hoist with twisted, kinked, or damaged chain
operating damaged or malfunctioning hoist
lifting people
lifting loads over people
operating hoist with other than manual power
removing or obscuring label
(b) All electric-powered or air-powered hoists shall have affixed to the hoist, load block, or controls, a label or labels displaying information covering operating procedures. the label or labels shall be in compliance with ANSI Z535.4, and shall include cautionary language against
lifting more than rated load
operating hoist when load is not centered under hoist
operating hoist with twisted, kinked, or damaged chain or rope
operating damaged or malfunctioning hoist
lifting people
lifting loads over people
operating a rope hoist with a rope that is not properly seated in its groove
removing or obscuring label
(c) A label shall be affixed on all electrical control enclosures. The label shall be in compliance with ANSI Z535.4, and shall include, but not be limited to , information such as:
"DISCONNECT POWER AND LOCKOUT/TAGOUT DISCONNECTING MEANS BEFORE REMOVING COVER OR SERVICING THIS EQUIPMENT"
"DO NOT OPERATE WITHOUT COVER IN PLACE"