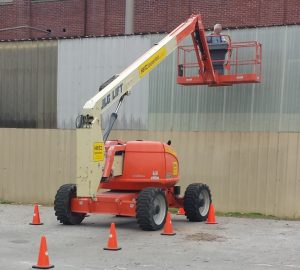 Aerial Lift/Scissor Lift/Boom Lift training provides participants with general knowledge and understanding of the safe and efficient operation of "Power Operated Mobile Work Platforms" under OSHA and ANSI regulations.  Once training is completed, the participants will be able to recognize specific health and safety-related hazards associated with operating scissor/aerial lifts.
We bring our program to your facility customizing it as needed so your operators can safely and efficiently operate your equipment in your workplace.
This course has two components:
Classroom session covering the theory of safe and efficient operation.
Practical evaluation of the operator's ability to operate your equipment.
Standard course length is 8 hours.