CPR, First Aid & AED certification program is available to anyone with the desire to assist in the caring of someone else life until qualified EMS (Emergency Medical Staff) arrive.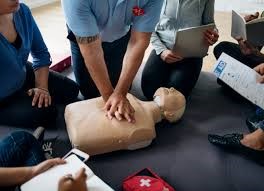 Participants will learn to:
Recognize a medical emergency

Handle breathing and cardiac emergencies

Act appropriately and effectively and sustain life until professional help arrives

Prevent disease transmission

Identify and care for bleeding, sudden illness, and injuries
Heart disease is the most common cause of death in the United States.  Knowing how and when to respond to a heart emergency is a critical lifesaving skill. Learning the techniques through CPR/First Aid/AED certification will ensure that you are prepared to assess the scene for safety and respond when faced with a heart attack, cardiac arrest, airway obstruction, or another emergency.